Screen and Table
---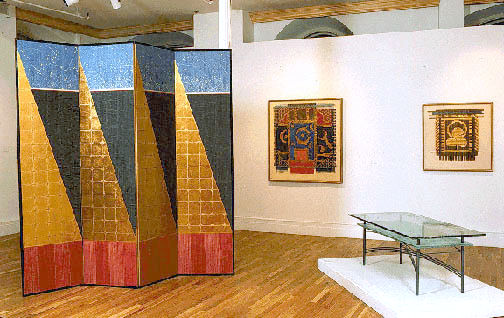 Folding Screen and Glass Table
These are examples of the type of work that can be commissioned from my studio.
The Screen is constructed of wood, handpainted and gilded papers, canvas (for hinges), and is finished with lacquered framing with hand beaten copper corners and bump-guards. The panels are built along the lines of traditional Japanese screen panels and are joined with a canvas version of the Japanese screen hinge that moves easily in both directions.Size:8 feet by 8 feet. The other side of this screen can be seen with the Lotus Torchiere.
TheTable is 28" wide by 60" long and is 21 1/2" tall. The glass is 3/4" thick and is sandblasted with an abstract pattern that resembles a fossil bed seen in transparent layers. The lower slab of glass is sandblasted and carved on on all sides and edges. The base is made of wrought iron painted green to match the color-cast of the glass. The table was designed to be easy to reach from a relaxed sitting position, it was given elegant arching crossbars that give a liquid lightness to the table's appearance and allow for easy vacuuming under it.
Price:Screen prices on request, construction and completion take about 12 weeks. A screen of this size is US$25,000.
Table prices on request. This table in the above dimensions would be US$15,000.00.
---