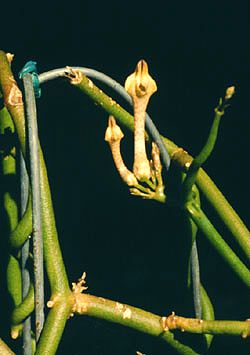 This plant is native to Somalia, Ethiopia, Uganda, Zaire, Chad, Cameroon, Burkina Faso, Senegal, with sub species in Tanzania, Zaire, Uganda, and Kenya. It has been known since1838.
This plant has medium thick stems (under 1/4" in diameter) and short spade shaped succulent leaves without marks. The flowers are rather dull in color and there are a lot of them. Unlike most other ceropegias, this one will bloom on the same flower stalk each year, much like its relatives the hoya branch of the family. As the plant ages the flower stalk lengthens and the scars of past flowers spiral around it in a raised line of white spots. So, for this plant I would not recommend cutting it back each year. If temperatures are warm enough, it will bloom before it forms leaves as it comes out of its winter resting period. I suspect that if the plant is kept warm enough it would remain in continuous growth and flower.
September 1999 - I have seen other varieties of aristolochiodes in pictures in ASKLEPIOS. Many of them are very attractive and much more worth growing than the variety shown here. They just don't seem to be available in the marketplace.