Ceropegia radicans
---
This plant is native to the Cape Province, it has been listed since 1894.

This plant has very succulent leaves on a medium sized trailling vine. The flowers are very large (over 2 inches tall) and dramatic. I got this plant from Paul Shirley well over a year ago as a cutting. It has been very slow to grow to its little more than 24 inch length. It was thrilling to see buds and finally the opened flowers. It's August in New York , a particularly hot and muggy one and this is one of the highlights of my garden.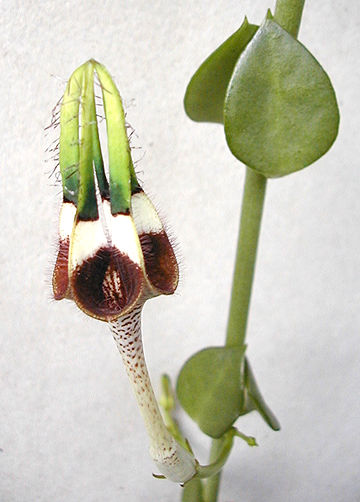 | | |
| --- | --- |
| | The flowers seem to last about 2-4 days slowly leaning over to a more or less horizontal position. That may be because of a recent thunder shower. I'll know more as the new buds bloom. August 12, 2001 |
September 2002 - And now here's a look inside the flower.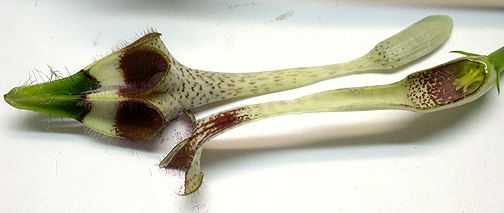 Here's a close up of the top with all its fur and a shot showing the pores that the hairs grow from.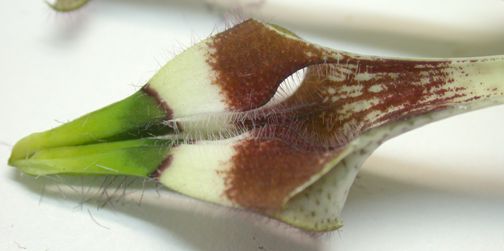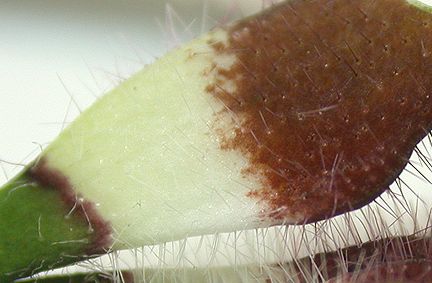 And at last a look at the stigma.
---