Ceropegia stenantha
---
This plant is native to Sudan, Uganda, Zaire, Tanzania, Zambia, Malawi, Zimbabwe, and Rwanda. It has been known since 1893.

Stenantha has small stems and non-succulent lanceolate leaves. It bloomed last year in late summer for about three weeks.

I've had it in my studio all winter under normal flourescent lights. It seems to be 'evergreen' with just a slow-down in growth during the fall and winter months. It's been an easy plant to care for, even with the dry air and my erratic watering during the winter.
Here is a picture of a bloom with a Centimeter ruler.
And a slice of the razor blade reveals inside the corolla tube. Even this small flower has fly-trapping hairs in it.

And here's the stigma up close. Notice the delicate white hairs in the tube.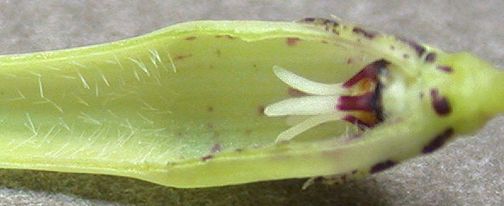 ---